Readers Offer Their Reviews…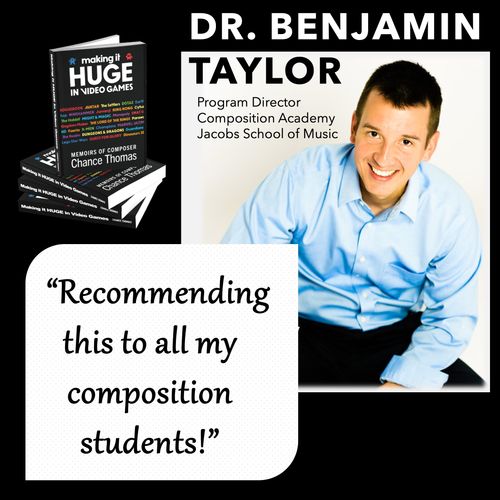 From Dr. Benjamin Taylor, Jacobs School of Music, Indiana University, Composition Academy Program Director: "If only I could have read something like this when I was a student! I'm only a few chapters in and already I'm finding applicable lessons for me as a mid-career composer.
Chance is giving us a real life, under the hood, behind the scenes look at what it means to be a professional composer. The writing is informal and conversational; full of great experiences and stories.
It feels like I'm sitting back listening to an informative podcast interview or a TED talk. I'll be recommending this to all my composition students!"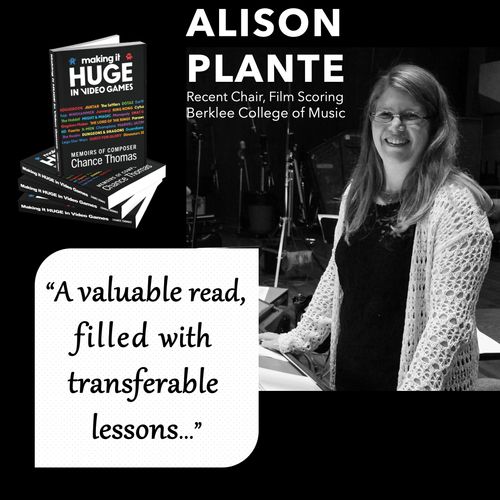 From Alison Plante, recent Chair of Film Scoring at Berklee College of Music: "As a lifelong Tolkien fan I was quite interested in the whole LOTR saga! And as a media composer and educator I appreciated the lessons to be drawn from both the successes and failures described in this memoir.
This makes the book a valuable read, filled with transferable lessons for those interested in the ever-evolving world of video game scoring and how to pursue a sustainable, achievable career in this field."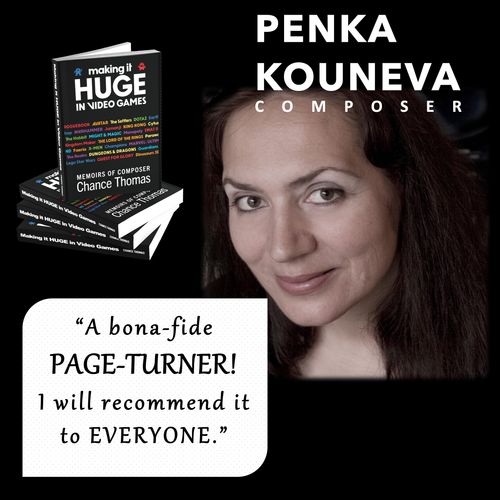 From composer Penka Kouneva: "Words cannot express how moved and inspired I am after having read your memoir! I literally inhaled the advance copy in two days/nights. It was an incredibly fluent reading experience. I would say, a bona-fide PAGE-TURNER!
I admire your always positive tone, your disarming honesty, the strength and resilience of your spirit, the unquenchable thirst for elevating your artistry, and how humbly and gratefully you speak about those who've opened doors for you.
Two things had my heart crushed and feeling profoundly sad – the chapter on the rise and fall of HUGEsound (Chapter 15) is heart-breaking and devastating, almost like reading a political thriller. And how many projects you have pitched for that dissipated!
I will always vividly remember the exhausted, desperate email the guitarist sent you (Chapter 19), and how your ears failed and started giving you distortion from exhaustion and overworking (Chapter 12). These are precious, invaluable vignettes.
So many incredibly honest and detailed testimonies, descriptions of colleagues, and the profound way you spoke of peer interactions resonated with me throughout. I will carry this experience with me forever.
Living your life with faith in the Creator, with purpose and gratitude radiates from every page. Bravo!
I will recommend it to everyone."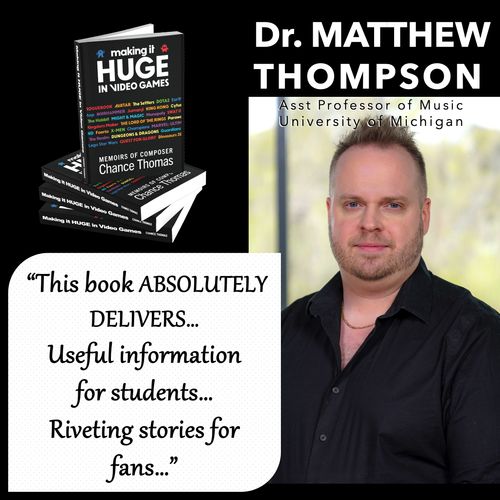 From Dr. Matthew Thompson, Asst. Professor of Music at University of Michigan: "In the first lines to Making It HUGE In Video Games: Memoirs of Composer Chance Thomas, Chance asks the reader to "...imagine we are sitting down together for lunch or cold drinks. Relaxed and comfortable, let's take a few minutes to get acquainted."
This book absolutely delivers on that pledge; it's a chance to read the career story and accrued wisdom along the way from an industry leader in game audio.
Written in an easy, compelling manner, the book contains numerous tales from Chance's journey.
Some of these are business related: networking, budgeting, maintaining relationships, negotiating. Others are music related: building interactive audio systems, mixing, orchestration, composition.
Some of the most touching anecdotes address autobiographical/personal matters: karma, faith, resiliency, spirituality, even including poetry penned by the author. Most impressive and evident throughout the book is the hustle with which Chance approaches life and his career!
The entire book holds useful information for a student interested in the industry, riveting stories for fans wanting to know the inside scoop about their favorite soundtracks, and even those in the industry who want to learn more about a recently retired colleague.
Congrats, Chance, on this incredible, beautiful endeavor."